Monthly Archive for September, 2010
My monthly mix of new 2010 songs and bands that I've enjoyed over the past few weeks:
-
almostaghost
Reviewing a live show is tough, even tougher than records. Basically, I imagine there were 17,375 Phoenix fans at the Hollywood Bowl last Saturday, and they probably all had a great time and walked away thinking, OMGZ! I mean, who am I to argue or say otherwise?
I'm not anti-Phoenix. I checked out their music prior to Coachella earlier this year, and caught about 10 minutes of their set there. Mostly I'm ambivalent. I was, however, more interested in seeing Grizzly Bear and to a lesser extent Girls. I tried to see Grizzly Bear at Coachella, but their tent was too packed, I couldn't make it in. As for Girls, ok cool.
So, as someone not entirely wrapped up in any of the bands, I feel like I could think more about the concert-going experience and what these bands brought to the stage. Interestingly, despite their obvious differences in sound and presence, these 3 bands seem to me to have certain things in common (besides all having lame band names that are useless to look up in Google). Mainly, I noticed a similar songwriting style. I mean, I don't believe there was any songs that had any sort of chorus; and they wrap their verses in relatively subtle riffs and melodies. This of course is cool on record, but to a giant crowd? Something felt lacking.
There are two types of live bands, in my experience: those that come out and play their songs, and those that come out and play. Girls is the first one. They came out, did their songs, and left. Though I'll be fair, they only played for like 17 minutes. Their first couple songs made little impression, and then just as they were getting into it, their set ended.
Grizzly Bear came next. You know how their great records and songs can sometimes have an awkward yet beautiful momentum to them? Live, it's slightly annoying. I kept hoping for a bit more groove, but all the constant changes kind of nullified it. Despite that, I'd say they came off pretty well on stage, I enjoyed their voices, and their songs have continually grown on me over the years. Halfway through, Leslie Feist came out and sang a song (and danced around and sang harmony on another), and she always sounds great.
Phoenix closed it down. They are a talented band, and have a sound that can fit in a big place like the Bowl. They definitely had a bit more muscle than either Girls or Grizzly Bear. The songs I liked the best were the ones that seemed to be built more on a synthesizer sound. Like I said, though, the lack of choruses made the show feel odd to me. I don't want my bands to necessarily be U2 and sing a bunch of anthems, but by this point, I wanted something. Reach out and grab me, Phoenix! They did not. Since I didn't really know any of their songs (not a radio listener, obvs), most of what they did went right through my ears.
At one point, Phoenix walked out into the middle of the crowd, and played a few songs from there. From my vantage point, up in the back, it was a giant lull in the show. But I guess that was nice for the people in that section. Also for a bit, they dropped a white curtain down and started to play behind it. I thought, hmm like The Wall? But you could see their silhouettes through it, and there was little rainbow lights lighting it up, and they kind of just noodled bass solos (which they seemed to do a lot) or something from back there. I'm not sure what statement they were making, but it certainly wasn't anything like Pink Floyd's statement about the wall between band and audience. I'm sure the whole thing is some sort of symbolic message about modern music I haven't figured out.
Here's a couple of mp3s:
Grizzly Bear & Feist – "Service Bell"
I wanted to share this pretty cool cover of Bob Dylan's "Sad-Eyed Lady Of The Lowlands" that Phoenix recorded at some point, but the file size is too big, so here it is on Youtube:
and while finding that, I found an audience clip of the Grizzly Bear/Feist performance!
-
almostaghost
I'm fairly certain that it is either impossible or just foolhardy to try and live up to a near-perfect album like Endtroducing.  And although DJ Shadow has said before that he is not trying to, his fans and various press outlets can't help but make the comparison.  And who could blame them?  Endtroducing is an absolute gem of electronic music, one which if you haven't had the pleasure of listening to, I suggest you stop reading and get a copy for yourself.  You can thank me later.
Sadly, it seems a pattern for an artist's fan base to want the same sound over and over, recreating that initial feeling in their minds that got them into the artist in the first place.  Chasing this fix is ultimately fruitless in most cases, however it is most certainly a habit which has propagated through many generations of music listeners.
The press more or less follows in this pattern, although often thinly veiling it with some supporting adjectives and references to make you think otherwise.  Unfortunately, while natural, this feeling can overshadow the act of actually hearing the new material for what it is, simply branding it as "not familiar" and moving on.
Pitchfork was quick to make that very mistake this morning while covering the release of two new DJ Shadow tracks were posted on his website (Both songs are freely available for download for September 13th only).  These tracks are from his upcoming, so far unnamed release.  Luckily, the tracks are posted for free, so the fans can make their own judgements.
While these tracks add nothing groundbreaking to DJ Shadow's repertoire, it is certainly nice to see him getting back into the swing of releasing material under his own moniker.   Personally, I cannot wait to hear what the rest of the album has in store.
Go ahead and grab a copy of the tracks for yourself over at DJ Shadow's website (in much higher quality than here), but for now, you can stream them right here as well:
tokyo
Cotton Jones is one of those enigmatic bands for me, I know almost nothing about them beyond the sound of their music. I am sure I could look up a bit, but I feel content to just leave it that way. So what do I know? I know they began life as Cotton Jones Basket Ride and released a few EPs, only one of which I've heard. Then they dropped "Basket Ride" from their name, and put out Paranoid Cocoon last year. Some web press I have seen, for reasons I can't figure, considers Paranoid Cocoon their debut album; I do not know what this indicates about the Basket Ride-era music that proceeded it. I think the band may just consist of a man and his wife, and I don't think either are actually named Cotton Jones.
Paranoid Coccoon, however, was easily one of my favorite records of last year. I happened upon one of the songs, "I Am A Changer" on SaidTheGramophone and was immediately taken by it. The song is playful yet melancholy, poetic yet funny, wistful yet weighty. Happily, I discovered that the entire album also met those same descriptions.
Their new record, Tall Hours In The Glowstream was just released, and Cotton Jones has seemingly tweaked their sound a bit. There were many times on Glowstream when I thought, oh reminds me of this or that. While nothing wrong with that, what I liked about having discovered Cocoon last year was that I regularly thought, oh I really like Cotton Jones. Perhaps this is a normal reaction to a second record, and explains the famous sophomore-record let-down.
Anyway, on Glowstream, the singers actually sing some vocals alone, instead of just harmonizing together on just about everything (which was totally charming on Cocoon). The light pop/garage band/tamborine undertones of Cocoon has been replaced by a slightly darker production led by organ drones, echoed drums, and even a horn section here and there. The playfulness is not nearly so evident. Also not as evident are the lyrics, the album just feels a lot more mysterious in many ways.
Mystery is good, even welcomed, but personally much of what I was drawn to on Cocoon has been pushed into the shadows this time around. (I think some of it is there, it's just not so obvious. I think it likely I may grow to find it on this album, with more time and listens.) While I am glad they did not try to exactly duplicate what they were successful with prior, and absolutely look forward to where they go next, Tall Hours In The Glowstream feels to me to have lost some of what made Cotton Jones unique.
Here's a sample mp3 from the album: "Sail Of The Silver Morning"
and while I'm at it, here's their earlier "Up A Tree (Went This Heart I Have)" from Paranoid Cocoon.
-
almostaghost
Explosions In The Sky recently announced a small handful of US dates, presumably a warmup for their upcoming album / ensuing tour. They played to a sold out crowd of about 600 people in a hollowed out church in the historic district of downtown Baltimore, and I was lucky enough to get a ticket last minute. What more can I say. Download links below.
Download FLAC here. [etree]
Download FLAC here. [dimeadozen]
Download mp3 here.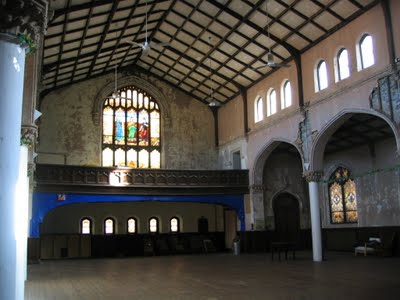 Explosions in the Sky
September 02, 2010
2640 Space
Baltimore, MD
Source:   Core Sound Binaurals > Battery Box > Nomad Jukebox 3
Transfer: NJB3 > USB > PC > Sony Soundforge 7.0a
Edit:     Sony Soundforge 7.0a (Splitting) > FLAC 1.2.1 > Tag & Rename
01) First Breath After Coma
02) The Birth and Death of The Day
03) Memorial
04) New Song [Title Unknown]
05) Catastrophe and the Cure
06) Your Hand In Mine
07) Help Us Stay Alive
08) The Only Moment We were Alone
Notes:
This show may not be sold under any cirumstances.
Recorded by:
breathmint   (breathmint@hotmail.com)
Becktabs Hub (dchub://becktabs.homelinux.org:1411)
-
breathmint