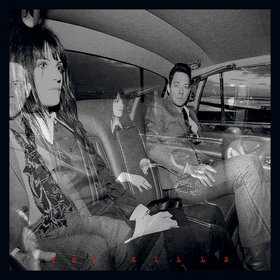 A couple of albums ago, I mentioned how there were few albums I listened to more than The War On Drugs' Slave Ambient this year. The Kills' Blood Pressures probably got my most plays. There was a 2-3 month period earlier this year where I was working 14-15 hour days, 7 days a week. I took to playing Blood Pressures on my headphones every evening at full blast for a nightly jolt of rock energy, to get me through the last few sleepy hours of work.
So I have probably ranked it higher than it should, but I cannot deny–when I look back at the music of 2011, this was one of the defining albums for me. The album was perfect for that energy jolt. Even now, when I'm in that mood, I can play it in the car, and the windows start rattling and it's AWESOME. Their loud choppy guitar riffs are infectious, the window-rattling lower end and relentless drums are exciting, and Alison Mosshart does the highwire seductive roar better than anybody around.
The songs are usually built around meaningless phrases: "the heart is a beating drum," "loneliness never truly leaves me alone," "it's not the door you're using, but the way you're walking through it." They really do not mean much, but they sound good, loud. They're simple and effective and with just the right touch of power. "I can't find enough pots and pans / let alone knives in my kitchen / To keep you cooking" — I mean, only the rockingest rock stars could get away with rocking lines like that, right? "Could be a nail in my coffin / and Lord knows I ain't ready yet!" Alison Mosshart sings on "Nail In My Coffin." It pretty much sums up most of the songs–a mix of frustration and temptation and whatever else raises your blood pressure.
The songs aren't all relentless. Songs like "Satellite" show off their ability to weave some uplifting gospel choruses into their rock and roll. Usually these moments are wordless, and short, but they're there, providing nice breaks from all the intensity. Similarly, "The Last Goodbye" is a end-of-the-night closing-time piano torch song–I'm surprised it's not the final track on the album. But since it is not, it also acts as a break between the roar of the other songs.
After The Dead Weather had my fifth favorite album of 2010, I definitely count myself as one of Mosshart's biggest fans now. Her partnership with Hince has turned The Kills into a great band, and their electrifying Blood Pressures was one of the highlights of 2011.