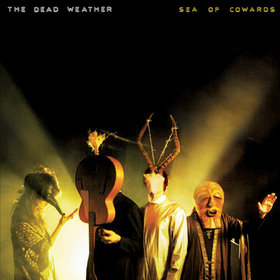 #5. The Dead Weather – Sea Of Cowards
The Dead Weather were the best live band I saw this year. I saw them twice, and each time, one thought was left with me: damn, they are rock stars. Just bad-ass, don't-mess-with-us rock stars, full of charisma and intensity. But this isn't a countdown of who had the most killer stage presence of the year. I mention it because their new album, Sea Of Cowards, is a bad-ass, don't-mess-with-us album, full of charisma and intensity.
Sea Of Cowards is relatively short, but the compactness does nothing but make The Dead Weather's nasty streak nastier. The nastiness is relentless, breathless. All good rock stars take no prisoners, and that's what they tap into. On "Blue Blood Blues," Jack White starts the madness off ("All the neighbors get pissed when I come home / I make 'em nervous / All the white girls trip / When I sing at Sunday service"). From there, Alison Mosshart takes over. She's an amazing singer, versatile, and always with intensity. The band follows her, basically. Jack Lawrence's bass often kicks off the songs, his spazzy rhythms climbing out of the crashing embers of the prior song. (The album is more or less set up like a long medley of songs, loosely connected by theme.) The keyboard/guitar riffs by Dean Fertita (and White sometimes) are at times thrilling ("Gasoline," "The Difference Between Us").
I feel like I may be making this sound more extreme than it is. It is intense and relentless, but like good rock stars, The Dead Weather know how to make it listenable. That charisma is what makes them special, and what kicks their songs up another notch. Any one of these four could be stars of any band. Together, they are a real force. If you like your rock dirty and bluesy and not watered down, Sea Of Cowards is the first place to start.
The Dead Weather "Blue Blood Blues"