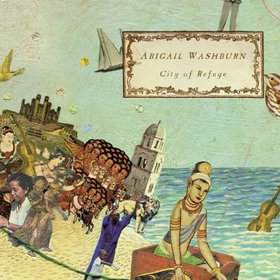 Alright, I think we might get some more best-of-2010 posts up on here soon by other writers, but I'm moving forward. 2011 people! Keep up! (Thanks Btrxz, your haikus were awesome; if only I could be so beautifully concise.)
I intend to keep sharing music I'm currently checking out, whether that means a new album I like, or dislike, or the old videos I've watched on YouTube that entertain me, or a show I went to, or whatever strikes me each week. Breathmint named this blog Now Playing, and I take that to mean, be as current as possible.
So the last few days, since my countdown (and 2010) ended, I've been checking out the new album, City Of Refuge, by Abigail Washburn. She is generally known as a talented banjo player. Thus, her early albums were close to bluegrass, but I found many of her songs to be much more laidback than real true bluegrass. Chillgrass*, I call it. Here's one song from her first album:
Abigail Washburn "Red & Blazing"
And here's the title track from her first album:
Abigail Washburn "Song of the Traveling Daughter"
Cool huh? Now I'm sure you're going: wait, that last one, that's not in English! Turns out, Washburn is fluent in Chinese, having spent some time in China. So she occasionally mixes in some Chinese lyrics or sounds into her bluegrass. The whole album makes for a striking atmosphre: banjo, blues lyrics, country voice, Chinese influence.
Which brings us to her new album, City Of Refuge. Just as Song Of The Traveling Daughter could be striking, this one is almost un-striking*.
As City Of Refuge album moves forward, many of the blues and banjo leanings are pushed to the background, or are lacking entirely. No! Come back, Chinese chillgrass blues!
What is left? Unfortunately, nothing terribly unique. It sounds to me like she is joining the crowd: Neko Case, Laura Veirs, The Mynabirds, to name a few, all likable female singers with pretty voices, who borrow from country and acoustic rock and bluesy folk and don't do too much drastically different from each other.
I hate to make unnecessary comparisons when thinking about an album. And certainly this is some pretty tunage: well-made, sounds nice, lots of instrumental flourish, appropriately moody, Washburn's voice always excellent. There's a few songs that can drop you: "Dreams Of Nectar," "Bring Me My Queen." "City Of Refuge" is an old blues song, and might be the best recording she's ever made. Most songs borrow something from old-time American music nicely. Really, I won't deny, City Of Refuge on its own comes off pretty solid.
But where did Abigail Washburn go?
I'm not going to share any mp3s of the new stuff this time: but you can listen to the entire album over at NPR's First Listen website: [here!]
*Good critics make up their own words. =P