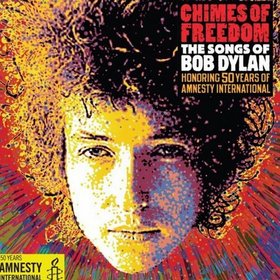 I consider myself a Bob Dylan fan. A pretty hardcore one. If you ask me what my favorite album ever is, Blood On The Tracks is one of my answers. I have been to his concerts, read his biography, and have every one of his albums on my computer. This is probably not unusual nor particularly insightful, I know. I say it to mean, I feel like I know his songs pretty well. And because of that I have always loved hearing covers of Bob Dylan songs.
There's millions of Dylan covers, and, sure, few if any are as good as his original. This new release–Chimes Of Freedom–adds 76 more to the world, by many big-time artists. The album, I'll note, is to celebrate Amnesty International's 50th anniversary, and proceeds go to charity. It is cheap, and you can order it here if you so desire (you can also listen to it all at that link for free).
With that said, I'm going to liveblog going through this collection. I don't know how long this will end up, or if all 76 tracks will be worth a mention, or what. But let's dive in!
1. Johnny Cash & The Avett Brothers "One Too Many Mornings": Not sure where this recording of Cash came from, though I know he's covered this song a few times. Whatever it is, the Avett Brothers jump on it and sing along with Cash and why? I'm not clear what they really bring to the table, can't it just be Cash? The song becomes a bit too upbeat country for my tastes. It's actually a pretty mournful song, one of Dylan's most underrated bests.
2. Raphael Saadiq "Leopard-Skin Pill-Box Hat": R&B/soul is a genre of sincerity, for the most part. Marvin Gaye only makes sense if you believe he really wants to get it on, right? "Leopard-Skin" though is kind of droll bluesy comedy, and has a sense of disbelief to it that doesn't particularly fit an R&B/soul singer like Saadiq. He sounds a lot like Prince here, and there is some cool guitar playing, so not a total wash.
3. Patti Smith "Drifter's Escape": While this doesn't have the energy of classic Patti Smith, it does sound amazing. Despite her raw reputation, she's also really good at telling stories, and that's what "Drifter's Escape" is (as is all of John Wesley Harding). A sharp combination of singer and song here, really dug this.
4. Rise Against "Ballad Of Hollis Brown": This folk song has always surprised me how adaptable it is, as there are some great blues, funk, and soul versions out there (Nina Simone, for example). This screamed punk rock one, though, I would happily ignore (though I will credit, they seem to get the drama of the song correct).
5. Tom Morello The Nightwatchman "Blind Willie McTell": If you aren't aware, Rage Against The Machine's guitarist, Tom Morello, has found a second life as a folk musician. Woody Guthrie and Rage aren't as far apart as it may seem! Dylan's in that spectrum too, somewhere, I guess. Not bad, this, but I don't love Morello's growl of a voice here. "McTell" is a unique and strangely beautiful song; I get none of that from this version. (PS. Rage's "Maggie Farm" is my favorite Dylan cover ever.)
6. Pete Townshend "Corrina, Corrina": I definitely like hearing Townshend acoustic and folky sometimes. Though his harmonica-playing is not nearly as good as Dylan's, that's for certain (or whoever plays that here).
7. Betty Lavette "Most Of The Time": torch soul singer jumps in on one of Dylan's most soulful and beautiful songs ("I don't compromise / I don't pretend / I don't even care if I ever see her again / Most of the time"). Cool. What I said about sincerity and soul not fitting for Saadiq & "Leopard-Skin" actually fits here. The lyrics get slightly lost beyond her voice, but minor quibble. I love this song.
Bettye Lavette "Most Of The Time"
8. Charlie Winston "This Wheel's On Fire": I've never heard of Winston before this. He fills the song up fairly well, but it seems like How To Cover A Dylan Song 101. Nothing particularly new or engaging to it.
9. Diana Krall "Simple Twist Of Fate": Blood On The Tracks covers are extremely tough to pull off. People usually just play the songs as super sad/heartbroken. But Dylan's songs on that album have so many other angles buried in them, and those depths are usually ignored. (Or more likely, other artists can't reach them.) Elvis Costello's wife plays the song with a dreamy, foggy sadness. I do not like this take on the song, as I think that clarity is a big part of the memories in the song, and a necessary part. Instead of "my memories of the past," the song becomes "here's some stuff that might have happened in the past." In other words, a lot fuzzier, and less effective. I don't know if that makes sense, but it does in my head. 🙂
10. Brett Dennen "You Ain't Goin' Nowhere": I don't know Dennen, but if this is what he usually sounds like (jaunty child-like folk), "You Ain't Goin' Nowhere" was a natural choice. Most covers of this song sound just like this.
11. Mariachi El Bronx "Love Sick": whoa, what?! MEB, a punk band called The Bronx who decided to start making Mariachi-infused music, and "Love Sick" is absolutely an odd choice for that sound. It is a song of a man haunted by his past, shadowy and destroyed, head down, which is kind of at odds with the more extroverted mariachi/punk styles. That said, I dug this, for the surprise. I never would have thought this could work at all. Very cool!
12. Ziggy Marley "Blowin' In The Wind": genrehopping continues with some reggae.
13. The Gaslight Anthem "Changing Of The Guards": I don't know them, but based on this, their sound reminds me of Rise Against from earlier. Perhaps a bit less punk, but still a full-sounding clean rock band. This is a much better fit of a song than Rise Against picked. Gaslight's singer seems good, but the track is mostly forgettable.
14. Silversun Pickups "Not Dark Yet": I really liked the moody atmospheric music on this version of the song, one of Dylan's most moody and atmospheric. However, I did not feel the singer at all. This is a song for which you need to have years of life experience to sing effectively. This guy clearly does not.
15. My Morning Jacket "You're A Big Girl Now": nice. Jim James can kill at emotion when he tries for it. Loved when the slide guitar gets in there, and cries as well. Great recording.
16. The Airborne Toxic Event "Boots Of Spanish Leather": not bad. Amazing how a cool Dylan song done with care can turn a boring band interesting.
17. Sting "Girl From The North Country" & 18. Mark Knopfler "Restless Farewell": I wonder if the Amnesty people put the Money For Nothing duo back to back on purpose? Knopfler is better at adopting other sounds and styles than Sting is, and I like his classy track. It seems infused with a bit of Irish sounds, as well as some folk and rock. Sting sounds like he's faking it, pretending to be a Scottish folk singer or something.
Hmm this is already getting long and probably unreadable and I'm only at the end of disc one. I'll make the other discs their own posts over the next few days!
Disc One was pretty good, I'd say, nothing truly terrible, and enough different genres to be entertaining that way. So far, enjoyable trip into Dylan-land.
Disc One favorites: Patti Smith, Mariachi El Bronx.
Disc One least favorites: Sting, Tom Morello.