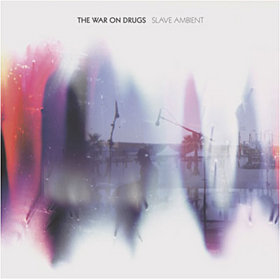 I have read a number of reviews and commentaries around the internetz about Slave Ambient. While I kind of find myself disagreeing with a lot of the comparisons (Dylan, what?), many refer to the uplifting sound of their traditional American rock roots. They are clearly meant for a long car ride, turned up loud, sunset behind you. The reviews often leave it at that, though, and not The War On Drugs' unique stylings.
Personally, I am not sure that traditional American rock is the right description for The War On Drugs. They are definitely closer to shoegaze, the proud genre of loud guitars and mumbled lyrics. The War On Drugs bring some different themes to shoegaze; instead of gazing at their shoes, they seem to be gazing at the open road. (Roadgaze?) A lot of their lyrics are blurry, but certain words jump out – harbors, freeways, rambling, trains, rattling in my brain, farms, debris, Northeast. There's definitely some sort of world-weariness to the songs, that comes across in the words, the music, and the vocals. He's just trying to get home, or somewhere. "There is a train we take downtown that buckles and bends from the weight of the ground," Adam Granduciel sings, "You'll understand when I leave so suddenly with breeze."
Despite that weariness though, The War On Drugs have a quite uplifting sound. I think of it in terms of a Woody Guthrie, who also wrote tired-of-the-world songs that lifted you up. But The War On Drugs do it impressively without any choruses. Instead they hook you with the big chord changes, well-timed woohoos!, hypnotic bright drums.
And they make amazing use of the ambient instrumental tracks in between songs. While these tracks do add space between some of the more similarly-paced songs on the album, they also drive the whole thing. "Come To The City," for instance, is a memorable song, but made even more so by "The Animator," a 2-minute intro drone that brings "The City" to life. These ambient pieces, I assume, give the album its name, but more importantly make Slave Ambient cohere.
While The War On Drugs are ranked #6 here on my list, the actual ordering is not that precious. I've only listened to a couple of albums more often than this one this year. While "number of listens" is not my main criteria in ranking these, it does indicate that, man, Slave Ambient is something special.
The War On Drugs "Baby Missiles"