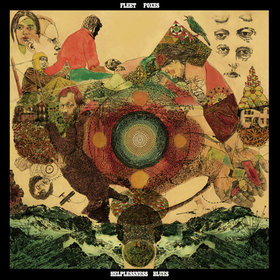 As I wrote about St. Vincent a few days ago, the songs on Helplessness Blues are extremely adaptable – everyone might get something different out of them. Robin Pecknold (Fleet Foxes' songwriter) embraces this adaptability with such beauty and craft, yet also providing an intricate mystery, that you cannot help but be left wondering, what are these songs?
I do not necessarily have a concrete explanation to that question, but certain things are woven in, continually hinted at, embedded in the songs. As the title indicates, Helplessness Blues does explore the feeling of longing for something unattainable. On the title track, he explains: "If I know only one thing it's that everything I see of the world is so inconceivable I barely can speak / I'll come back to you someday soon myself." That's the helplessness part, the inconceivable. Yet from within it he find some hope to pull him out, to latch on to.
Simlarly, in "Bedouin Dress," Pecknold longs "just to be at Innisfree again," a simple dream of being elsewhere. This dream is symbolized later in the song, when "in the street one day I saw you among the crowd / In a geometric patterned dress / gleaming white just as I recall / Old as I get I will never forget it all." Wherever he is, dreaming about Innisfree, he found this hopefulness in a crowd.
This all is just the grand view of helplessness. More intricately, Pecknold drops hints of being a soldier, nature, existentialism. He does not go deep into documenting the terrors of war, instead using it as a metaphor of the blues. "Montezuma" for instance is mostly existential wondering, but right that end he drops the reference: "Oh man what I used to be / Montezuma to Tripoli." "Bedouin Dress" from its title only seems to indicate he is on some foreign shore, for some reason. Far away, longing to return. As you can see from these examples, the military stuff is very slight, and that's what I mean by Pecknold writing so intricately. He drops just enough for things to perhaps be seen if you're looking; and even if you don't see it, it adds mystery and depths to the feelings.
The music is also intricate and beautiful. Perfect acoustic guitars roll into gorgeous and chilling vocal harmonies and melodies, in almost every song. "Sim Sala Bim" begins calmly, and slowly mutates into some intensity. "Battery Kinzie" has more rhythm, "Someone You'd Admire" is of that famous "Fourth Time Around"/"Norwegian Wood" tempo. While the songs share parts, they are diverse enough in sound so as not to get repetitive or desolate. Fleet Foxes have perfected their style so that it draws you in, so that you can't help but want to explore the helplessness blues.