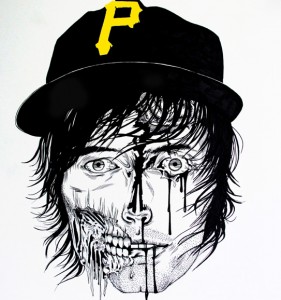 A little late on this one, but still fresh in my mind. I was lucky enough to catch Girl Talk (Greg Gillis) when they passed through Orlando. A really fun show all around, made better by the group of friends I was with.
The opening act was Max Tundra an electronic/8-bit-ish musician I had never heard of prior to the show. Kind of hard to describe – imagine a guy flailing about the stage while singing (falsetto) Beyonce's Single Ladies and closing with a song from The Sound of Music. A lot of the crowd was not feeling him, but I thought it was pretty fun opening act (better than a lot of opening acts I have seen lately) and showed another side of the sampling community. Highlight was his cover of KLF's "What Time is Love?".
Girl Talk was about what you would expect if you have listened to any of their music. Pretty much 1.5 hours (including encore) of dancing and all around partying filled with confetti and balloon drops. The crowd had a lot of energy and, as a whole, was there to just have a good time. Several people were brought onto the stage and danced in front of a massive screen synced to the music. Samples spanned pretty much his entire work with a lot of new mixes intermingled in and a lot of the weaker (less-danceable) mixes from his albums left out. Everything about the production was well done.
Honestly, my only complaint for the show was the venue. This was the first time I had been to HOB for anything other than food and the pit felt too small for this kind of show. A lot of people ended up stuck up against railings and stairs which looked pretty uncomfortable. Acoustics and lighting were good though.
I did not think about recording this (for the simple fact I was in the pit), but I have tossed in a clip of the show and a couple of his tracks to this post. It should be noted that this tour may be the last in this style for Girl Talk. In interviews, Gillis has stated he would like to move away from the continuous mash style and focus more on individual tracks. This seems consistent with his overall musical evolution which started with a very glitchy sound (see Unstopable) and now employs significantly longer samples (All Day).
Girl Talk – Oh No
Girl Talk – Bounce That
You can grab Girl Talk's latest album for free here.