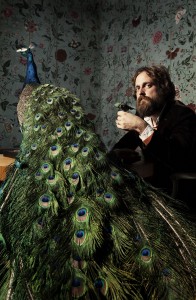 A couple of weeks ago, Iron & Wine dropped their new album, Kiss Each Other Clean. Interestingly, they performed a show here in Los Angeles on the day the album was released, allowing me an opportunity to experience the new songs live before hearing the record. The show was pretty good, and my only real critique was I wished for more acoustic songs, since that is what Sam Beam is truly an expert in. He did a couple, but most of the tracks were laidback rock songs, with horns and background singers and drums and I think there were something like 11 people on stage. Of course, I found out later, that's what the new album is, so I guess the show fit.
Anyway, I don't mean to review Kiss Each Other Clean, as I don't quite have my head all around it yet. (Short review: not entirely sold on the new sound but the songs are generally awesome.) But one song in particular, "Tree By The River," was something I felt like reflecting on.
"Tree By The River" begins with "Maryanne, do you remember that tree by the river when we were seventeen?" Many of Sam Beam's standout songs are wistful in nature like this, from his early "Bird Stealing Bread" ("I've not seen you lately on the street by the beach or places we used to go / I've a picture of you on our favorite day by the seaside") to the emotional "Passing Afternoon" ("only now I do believe sometimes, with the window closed, she'll sit and think of me") to the epic "Trapeze Swinger" (each verse starts with "please remember me"). "Tree By The River" is yet another song about remembering the past, with a tinge of melancholy, but with a matter-of-fact acceptance that sometimes things just drift away.
Before this turns into a "whoa Iron & Wine did it again!" post, I'm not real sure yet if he did. The difference in "Tree By The River" is that basically this is a song about a tree. There is an almost stark lack of symbolism and poetics in "Tree By The River," which made Beam's earlier songs so memorable. Nothing happens at this tree. There's no birds stealing bread out from under his nose, no frightened circus acts overhead, which are clear metaphors. He does reminisce about the sun, a wall, a horse near the tree, but they're incidental, and the song expresses a very vague memory.
There is some slight framing of the memory, as the repeated verse: "'Time isn't kind or unkind' you liked to say / But I wonder to who and what it is you're saying today." This I think is the prototypical Iron & Wine verse. "Time isn't kind or unkind" gets to that matter-of-fact acceptance I mentioned earlier, and clearly expresses the main theme in many many of Beam's songs. Tie that to the loss of love hinted at in "I wonder to who and what it is you're saying today" and pretty much this is Iron & Wine to a tee.
While Beam has always been a master at just saying enough to a story to maintain mystery but still be effective, perhaps then the stark plainness of this song was a conscious decision to cut away all the moments and images he usually puts in his songs. And what's left is a simply expressed, yet still emotional, lyric that almost everyone could relate to: "Marianne, we were in love when we were young and remember that tree? Where are you now?"
Have a listen:
Iron & Wine "Tree By The River"