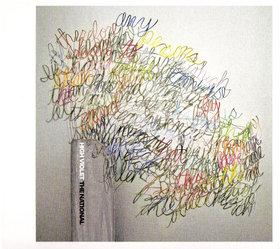 #1. The National – High Violet
The National's High Violet works for a lot of reasons, but foremost as a demonstration of melody. Melody makes songs catchy, but catchy melodies can easily be annoying or too pop or cheesy. The National gets right in there and writes melodies that only make their songs more powerful. They wouldn't work half as well if they were sung differently. The melodies sometimes build drama, sometimes jump out at you, and always add to the mood of what are already very moody songs.
But listening to these songs is to find them quickly engrained in your mind. There's one moment in particular that I think is indicative, both of their use of melody, as well as their songwriting in general. On "Conversation 16, Matt Berninger (the singer/lyricist) goes through a verse/chorus, semi-speaking, semi-singing. The band is burning behind him, and they repeat a couple of times. He seems to be describing a somewhat-perfect, romantic siutation: it's a "Hollywood summer," dinner with friends, "we belong in a movie," "we should swim in a fountain." But then, then The National hits on a short bridge: "I was afraid I'd eat your brains / 'Cause I'm evil." Now clearly, this isn't a song about zombies. Nor is he actually evil. He is just worried, you're not going to like me anymore, I'm going to ruin this soon. This line stands out, a bit of a shock, but once you find it and it works and makes sense to you… that's when High Violet will start clicking. (There are many moments throughout which may trigger this, actually, but that's my favorite.)
And once High Violet starts clicking, you find a pretty genius record. Throughout, it explores these kind of worries in various detail, via either wickedly funny or moody songs (often times, both). "Sorrow" rides along, finding him "living in a city sorrow built / it's in my honey / it's in my milk." "Anyone's Ghost" is about desolate isolation, having been left alone ("didn't want to be anyone's ghost"). He burns down blackberry fields, doesn't think to make corrections, owes money to the money to the money he owes. His shortcomings are always right there, haunting and lurking under everything. The first song, the terrific "Terrible Love" is an analogy for life and all its worries: "it's a terrible love / I'm walking with spiders / it's quiet company."
The way I decided which album was #1 was, in the end, pretty simple. I mean, really, there probably is not a lot of difference in quality between #1 and #3 or even #12. That is not what I am doing here, weighing this album versus that album versus all of recorded musical history. But looking back at 2010, what it came down to was that for about six months, I rarely stopped listening to High Violet. It never left the cd player in my car, and still remains right there ready to play. Many albums work as a full concept, others work as collections of individual songs… but the very best albums work as both. I can listen to High Violet straight through, or I can jump around, finding myself needing to hear a different song each different day. That's what happened with High Violet. 2010 was the year The National drug their songs into my brain (because they're evil).
The National "Conversation 16"
The National "Afraid Of Everyone"