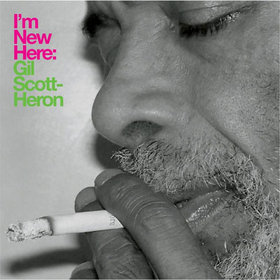 #4. Gil Scott-Heron: I'm New Here
When you think of the blues, there are generally not too many variations out there. You've got acoustic Delta blues with mysterious and spooky legends like Robert Johnson or Skip James. Or you might think of more electric bluesmen, bigger-than-life and creating rock and roll, like Muddy Waters or Howlin' Wolf. But the one thing that connects these bluesmen, and makes them eternal, is their wisdom. They all have lived–struggled, fought, lost, made it out alive. That's the blues in a nutshell.
Gil Scott-Heron, by all accounts, has lived. He is becoming more and more recognized as a legend, one of the pioneers of hiphop, with his '70s spoken-word jazz recordings. He might not have been the first rapper, but he was a leading black poet, focused on urban social issues. I'll cut his bio short, but by the '80s and '90s, he had more or less quit recording, and the '00s found him in prison for drug possession. This all leads to I'm New Here, Scott-Heron's first album in 16 years (and only second since 1982).
The amazing thing about I'm New Here is the way it takes old parts, yet sounds so new, so modern. The slide guitar and handclaps of "New York Is Killing Me" are skeletal blues, but the production includes electronic buzzes which make it feel current. The ghostly ambience of "The Crutch," the fluttery beat of "Your Soul And Mine": they may be distantly related to Skip James but could only have been made in modern times. The opening track, "Me And The Devil Blues" reworks the old Robert Johnson song into something almost triphop. This makes I'm New Here a rarity, an actual twist on one of the oldest and most familiar genres.
But what makes that twist special is that Scott-Heron is old enough to know. Throughout the album, there are number of short snippets of him speaking, offering thoughts ("certain bad things that happen…make you realize you've been here a whole lot longer than people thought you would"). There are no dirt crossroads in Gil Scott-Heron's blues, but it is clear he has met the devil a few times. But as he sings on the title track (ironically, a cover of a recent Smog song), "no matter how far wrong you've gone / you can always turn around." Gil Scott-Heron was pretty far gone, but I'm New Here hopefully is an announcement that's he's come back around. The world needs his voice.
Gil Scott-Heron "New York Is Killing Me"
Gil Scott-Heron "Me And The Devil"
and PS. check out this video for a remix of "New York Is Killing Me"… I think it gets to exactly what I wrote here earlier. It's not the dirt road blues, it's the subway blues. Watch him here.