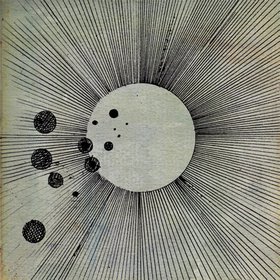 #14. Flying Lotus – Cosmogramma

Cosmogramma hits on a wide range of sounds. The prevailing bits are electronic, glitch. But as befitting the nephew of John and Alice Coltrane, Flying Lotus approaches his music with a jazzy outlook. Jazz can be made on a computer! I don't know if Flying Lotus is at the forefront of this movement, or if he is the only one trying. But it sounds unique to me, and is pretty awesome.
"Clock Catcher" starts things off with some video game jazz. "Pickled!" is some glitchy bebob. All sorts of things keep coming at you, like bits of new age strings, scat singing, thick bass, Alice Coltrane's harp. "Recoiled" has a beat that reminds me of an old chain gang blues. Thom Yorke shows up and murmurs his way through the best track on here, "…And The World Laughs With You." "Table Tennis" uses a ping pong beat. Literally. Not sure what it really adds, but it's a good example of Flying Lotus' grab bag of tricks.
That description probably makes it sound as if the album is noisy and crazy. And in a way, it is, I guess. But all the different sounds fits together, and the end result is a long medley of sorts. The songs aren't joined together, but listening in a row, they all just flow. You get the sense this was a fully conceived album. Since I really haven't heard anything like Cosmogramma before, it really stood out for me.
Posting just one song or two will probably defeat the purpose of Cosmogramma, but here's a few tracks anyway:
Flying Lotus – "Satelllliiiiiiiteee"
Flying Lotus – "Do The Astral Plane"
Flying Lotus – "…And The World Laughs With You (feat. Thom Yorke)"