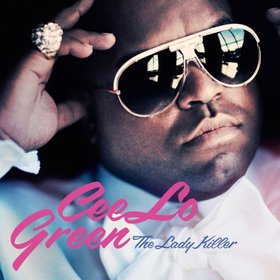 #19. Cee Lo Green – The Lady Killer
Yea, Cee Lo Green The Soul Machine! I'm sure you've all heard "Fuck You" to death, and it's certainly a great song. But what about the rest of The Lady Killer?
A slightly cliched intro sets up the entire album. This intro is straight out of a James Bond film (not only does Cee Lo announce that he's licensed to kill, but the music is pure spy movie). The 'licensed to kill' theme shows up numerous times on the album, from the surprisingly complex and dark "Bodies" which compares seduction to a crime ("at sunrise the morning paper is read / they found a body in my bed") to the poppier "Love Gun." There is also a lot of movie soundtrack riffs throughout the album, you'll be regularly reminded of an '80s detective show. But not in a cheesy way. OK, sometimes, in a tiny bit cheesy way. But good soul music can be a tiny bit cheesy if the passion is there. And Cee Lo always brings it, getting into these songs and belting them out.
Cee Lo's brand of soul music never sounds like he's mimicking the genre, even on songs like "Satisfied" which begins with horns that wouldn't be out of place on any Otis Redding song. It is clear that this is what Cee Lo is meant to be doing. His work with Gnarls Barkley or the Goodie Mob has always been solid, but this sound, this is him. He can let loose over groovy soul soundtracks, or even random Band Of Horses covers. He's the soul machine!
And if I have any criticism here of The Lady Killer, and it's small, is that a few songs are entirely cruise control. A soul song called "I Want You"? Choruses of "I'm a fool, such a fool, for you" or "hey it's ok / say that you love me"? These are soul music basics, almost a stereotype of the genre. Cee Lo's best songs take some pure soul and put new life into it. "Fuck You" is a pretty basic soul story at its core, but Cee Lo's storytelling and chorus kick it up a notch. "Bright Lights Bigger City" throws a Miami Vice beat into the mix.
Also I want to note that Cee Lo, a few months before The Lady Killer, put out a mixtape called Stray Bullets. It's a bit more hiphop and funk than The Lady Killer, as Cee Lo raps and sings over samples of Heart, Nick Cave (!) ("Night Train" below samples "Red Right Hand" and is hot), the B-52s and other fun things like that. These two albums make a fantastic collection of songs, and Cee Lo's stardom was definitely a highlight of 2010.
From The Lady Killer:
Cee Lo Green – Bright Lights, Bigger City
From Stray Bullets: