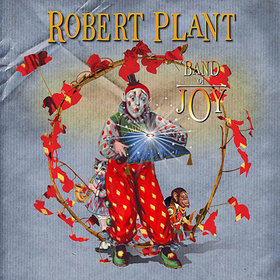 #21. Robert Plant – Band Of Joy
Robert Plant has always been a bit of a musicologist. Even in Led Zeppelin, he was very often the one connecting the songs to the blues with his lyrics and knowledge. His solo albums the past 10 years or so have focused on delivering more of his knowledge–mostly all covers, world music, bluegrass, whatever strikes his fancy. In the early 2000s, Plant was mixing triphop and world music with the blues (yes). Then out of nowhere, he did a duet album with Alison Krauss, a fairly pure country/bluegrass collaboration that was quite successful. Band Of Joy is in a similar vein to the Krauss album, but with a few more twists to it. Krauss isn't here, but he is using many of the same people from their album, and in effect, this is a collaboration with musician Buddy Miller. Together, they make a warm album, again almost entirely of cover songs.
The music is handled tastefully, Plant doesn't do the Golden God thing anymore. Not that anyone should want him to. The loudest he gets is the occasional "welll!" that gets tossed into songs. Nowadays, Plant focuses on subtlety, texture and foremost, serving the song. In many instances, Plant sings his covers very straight, sticking faithfully to the original melodies. Compare Plant's version of "Angel Dance" to Los Lobos' original, and you'll hear what I mean. Musically, however, Plant and Miller add touches of bluegrass and country into the song for flavor, and that's what makes this album special. Similarly, the Low covers ("Silver Rider" and "Monkey") delve directly into Low's slowcore sound, but with Robert Plant singing. (It's quite an unexpected combo to hear, though there were a few Page & Plant tracks some years back which were similar to slowcore.) A few other songs are similarly pure, ancient traditional songs like "Satan Your Kingdom Must Come Down" and "Cindy, I'll Marry You Someday." Where does he find these old songs? They're terrific.
Plant's mission here seems to be, not to experiment, but to deliver some great songs. That he does so successfully is such a joy.
Robert Plant – Cindy, I'll Marry You Someday