Monthly Archive for March, 2012
I know what you're thinking: "this music I listen to is so boring, why am I so uncool?" Well listen to this and everything will change! All new music from 2012 that I like–the year started slow but exciting stuff is starting to come out.
-
almostaghost
Last eight days seemed both completely jammed AND entirely uneventful. How does that happen?
-
almostaghost
A few days back, I went to see Sharon Van Etten and The War On Drugs concert at the Avalon in Hollywood. A strange combo! But I am a fan of both, and was excited.
The War On Drugs, who put out one of my favorite albums last year, opened. I saw them headline five months ago at a smaller venue, which was fun. But I think their sound fit this slightly bigger venue a little better. But their momentum, tight on record, is given more expanse on the stage. More specifically, that means a bit more jamming, longer ambient build-ups, phatter bass.
To be honest, I cannot decide if their groove is derivative, or unique. A fine line, I guess! In the end, it does not matter. But original or not, I really enjoyed their noisy, groovy set, once again. And if they come back again in five months… I'm sure I'll enjoy it then too. Here's a song from the excellent Slave Ambient:
Sharon Van Etten, who, on the other hand, I last saw at a MUCH bigger venue (opening for The National), was impressive as well. She has a somewhat goofy, self-deprecatory stage presence, which was a little surprising considering sad, emotional songs make up the core of her catalog. Fortunately, this presence does not get in the way of the songs. She can switch focus and deliver a jaw-dropping performance like it ain't no thing, even after awkwardly talking to the person in the front row (PS. we in the back had no idea what you were saying). Musically, I enjoyed her ability to pull off some of her slower, more drone-like pieces; and her band was also skilled enough to jump on faster ones too.
I did find myself wishing for a couple of songs where she just played acoustic guitar alone. Her first demo recordings are basically just that, and are so beautiful. But the new stuff has opened her up to a much wider palette, and for someone with such a great voice and such great songs, that's nothing but a good thing.
almostaghost
Boom. Fair warning–track 2 is 18 minutes long. Went to another concert tonight, will write it up soon.
-
almostaghost
Last week I drove out to Glendale, Arizona for to see my seventh Radiohead concert. I'm proud of the fact that I have seen them once per album since 1997. And while I cannot say this was as epic as some of the shows in the past, it was a total blast and quite memorable for a few reasons.
First, an indoor arena has a significantly different feel than the big outdoor concerts they have been focused on the past 10 years. While the capacity of the arena in Glendale was not drastically smaller than, say, the Hollywood Bowl (surprisingly very similar), the fact that it was indoor with a general admission floor gave a much different experience. You could actually see the band! I could, anyway, as I was on the floor, not too far back from the stage. This video is indicative: it seems to have been shot and zoomed over my head.
That video also brings me to my other point about Radiohead's setlists. Most bands will play their new songs pretty straight, while maybe experimenting a bit with their older songs. Radiohead? The exact opposite. As you can hear with this old song ("Packt Like Sardines In A Crushd Tin Box"), it sounds fairly similar to the recorded version on Amnesiac. But compare that to the new "Bloom" at the top, which has expanded and blown up into an entirely new experience. Most of the new King Of Limbs songs were like this. "Little By Little," while dark on record, sounds downright menacing live. "Good Morning Mr Magpie" is sped up. "Feral" explodes into some crazy thing, somehow becoming one of the more exciting songs in the set. (Why can't it sound like that on the record?!) The new songs were pretty mindblowing, and that is what I will remember most of all about the music this tour.
But then, the converse is true too: the old songs sound exactly like you'd expect. I love hearing the songs fucked with and expanded like this and why can't they do that with the old songs too? Doesn't have to be drastic, but "Paranoid Android" and all those sound like they always have. Do they have to? If they can experiment with "Feral," why not the old stuff? I do not mean to diminish the excitement of hearing the "Airbag" riff in person, don't get me wrong. I definitely recognize how great it is to still go to a show, 15 years later, and still have that "Paranoid Android" crowd frenzy. But it did make me wonder if they cruise through certain things to some extent? I don't know, I'm conflicted on this–torn between wanting more experiments but also loving their back catalog. In the end though, Radiohead on cruise control still sounds like this, so I'm just nitpicking:
Other little thoughts: "Lotus Flower" appears to be their new most-popular song, the crowd went crazy for it, along with old faves like "Idioteque" and "There There." I really can't imagine them dropping any of those from any set they do, ever.
Outside the King Of Limbs stuff, they also played recent tracks like "The Daily Mail" and "Identikit." A few other new songs have shown up on this tour, but those were the two I heard. Thom told the crowd that their goal was to play more new stuff–looking back is ok but looking forward is what keeps them going. "Identikit" reminded me a bit of "Lotus Flower," maybe just less seductive. That's first impression though, and will be curious if they release it soon (Thom said it was his favorite new song). They did release a live version of "The Daily Mail" recently, and it's been growing on me quite a bit.
Anyway, Radiohead's songs are so good and they're such amazing performers that there's no way a show won't rejuvenate you.
-
almostaghost
Next week's should be awesome–I'm roadtripping out to a Radiohead concert in a few days. 🙂 Until then, here's this week's.
-
almostaghost
Meant to have this up last night, but slipped my mind. Half a day late once isn't so bad. 🙂 Lucky #42 — the answer to the ultimate question.
-
almostaghost
Volume 2 just for you. This mix features shoegaze, with a heavy dose of electronic.
http://8tracks.com/breathmint/world-of-freakout-np-vol-02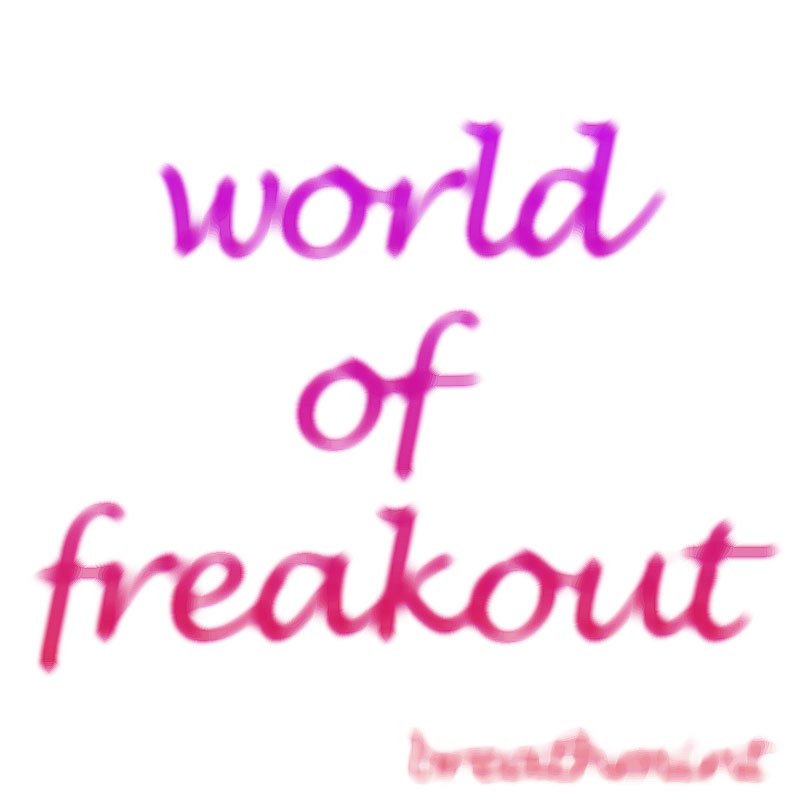 -
breathmint